How to register your software
If you have a serial number, follow the following instructions detailed below this text. 
Setting up your account with a serial number
If you are a new user of our service, before you can use it, you will need to register with us. You can only use the software once you have registered. if you do not register you will not be able to use the software. You can only register once you have received a serial number from us. If you don't have a serial number, please allow a little time for it to arrive by email. You will already need to have a Betfair account to use Bet Angel.
 When you install and use our software you will see the log in screen. In this area you will see a link called 'Register Bet Angel using serial number'. Click on this link.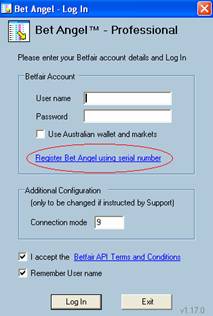 When you click the 'Request account' link the software will ask you for your Betfair username and a serial number. Your serial number will be sent to your automatically by email along with your order confirmation, please some time for both these emails to arrive. If you fail to receive a serial number please use the manual registration process to register your software.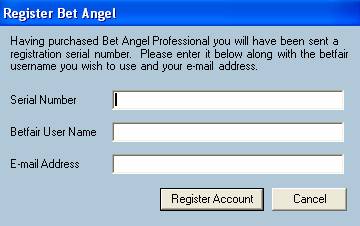 Enter your Betfair username. If you do not have a Betfair account then you will need to apply for one by visiting the Betfair web site and follow the 'Join now' link.
When you have entered your Betfair username and your serial number, click the request account button. The software will confirm that you are registered and you will be free to use the software immediately. If it detects a problem with your registration it may halt the registration and ask you to contact our support team.